< Back to News list
The Sheep Antibiotic Guardian Group (SAGG) and Sheep Veterinary Society (SVS) urge vets to use up-to-date version of AMU calculator
17 February 2023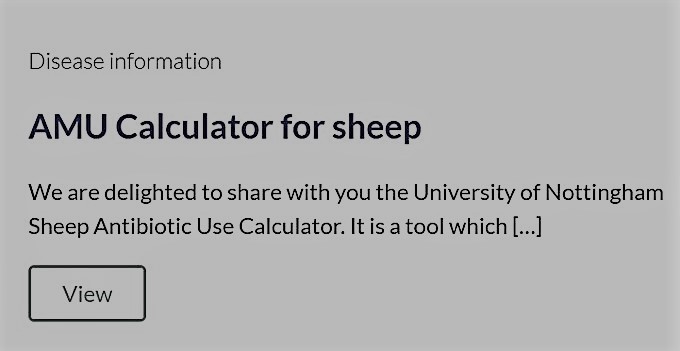 The Sheep Antibiotic Guardian Group (SAGG) and Sheep Veterinary Society (SVS) have been made aware that there has been a faulty version of the Nottingham Sheep AMU calculator available online and we would urge all vets to check which version they are using and to re-download the most up-to-date version (3.5).
In recent years a number of practising veterinary surgeons have made use of the freely available Sheep AMU calculator that was originally developed by vets at Nottingham University, supported by funds from AHDB.  The calculator allows farmers and practitioners to input the quantities of antibiotic used on farm together with the numbers of ewes and lambs.
The calculator allows simple upload of flock antibiotic information on to the Electronic Medicine Hub which is important to demonstrate sheep sector use across the UK.
The most up-to-date version of the calculator is labelled version 3.5 and can be accessed from https://sheepvetsoc.org.uk/knowledge-hub/amu-calculator-for-sheep/ or https://ahdb.org.uk/sheep-antimicrobial-usage-tool
Editors Notes
The Sheep Antibiotic Guardian Group (SAGG) is a voluntary group of cross sector organisations. It is responsible for co-ordinating the activity around antibiotic use in the sheep sector and to report progress on the antibiotic reduction targets on behalf of the sheep industry to the Responsible Use of Medicines in Agriculture (RUMA) Alliance. Outputs of this group are available on the RUMA website: ruma.org.uk
SAGG is chaired by Fiona Lovatt who together with Charles Sercombe reports on behalf of the group into the RUMA Targets Task Force. The group secretariat is provided by the Veterinary Medicine Directorate (VMD) and membership includes: National Sheep Association (NSA), Sheep Veterinary Society (SVS), National Farmers Union (NFU), Agriculture & Horticulture Development Board (AHDB), Quality Meat Scotland (QMS), Hybu Cig Cymru – Meat Promotion Wales (HCC), Red Tractor, Farm Assured Welsh Livestock and Responsible Use of Medicines in Agriculture Alliance (RUMA).
The Sheep Veterinary Society (SVS) promotes sheep health and welfare through scientific meetings, workshops and training sessions and representation on the British Veterinary Association Council and specialist Committees. The Society was formed in 1967 and the Society's five hundred members are drawn from all sectors of the sheep industry. Most members are veterinary surgeons but a quarter of the membership are advisers, researchers, farmers and shepherds.
Biosecurity and Disease management are the essential drivers for economic sheep farming, and this remains at the forefront of the Sheep Veterinary Society's agenda and we will continue to move this forward with the conversations between local veterinary surgeons and their sheep farmer clients being our principal focus.
For further information contact:
Fiona Lovatt, Chair, Sheep Antibiotic Guardian Group – fiona@flockhealth.co.uk
David Wilson, President, Sheep Veterinary Society – secretariat@sheepvetsoc.org.uk