19 October 2022
David Wilson became the new President of the Sheep Veterinary Society during the Autumn Conference held in Penrith from 17th to 19th October 2022. David takes over the role from Rebecca Mearns who becomes Senior Vice President as Amanda Carson retires from the committee. Joining the officials is new Junior Vice President Joe Henry.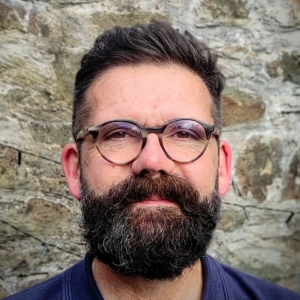 David qualified from Glasgow Vet School in 1994, following an MA in Zoology from University College, Oxford. His background is in sheep and beef practice in Northumberland and south-east Scotland, including 10 years in the R(D)SVS Farm Animal Practice, becoming Senior Lecturer and Chair of the Farm Animal Exam Board, contributing to clinical research publications, primarily in parasitology. He is currently Veterinary Manager of the SRUC Health Schemes, and Centre Manager of the SRUC Disease Surveillance Centre at St Boswells in the Scottish Borders. David holds the RCVS Diploma in Sheep Health and Production, and is a RCVS Recognised Specialist in this subject.
The Sheep Veterinary Society brings together vets, advisers and flock owners from all over the United Kingdom, Europe and the wider world who are interested in the welfare and production of sheep. The Society is a forum for education and discussion on all matters relating to sheep health and welfare. It also builds strong links with sheep farmers through the National Sheep Association.
Members of the Society and Committee are actively involved in many different groups and schemes helping to forge ideas and policies that will have a direct impact upon the future of the sheep farming industry.