13 November 2023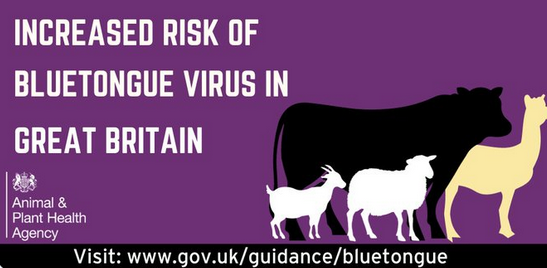 Bluetongue virus detected in a single cow in Kent, England
The UK Chief Veterinary Officer (CVO), Christine Middlemiss has confirmed the presence of bluetongue virus serotype 3 (BTV-3) in one animal from a herd of cattle in Kent, after official sampling provided positive PCR results.
The Animal and Plant Health Agency (APHA) and the Pirbright Institute (national BTV reference laboratory) initially identified the disease in the cow through routine GB annual bluetongue surveillance.
Action is being taken to ensure the risk of spread of the disease is reduced, with a 10 km Temporary Control Zone put in place around the affected farm on 11 November, which restricts movements of susceptible animals, except under license. Additional surveillance will be undertaken by APHA. The cow was humanely culled to reduce the risk of onward disease transmission.
Background – bluetongue virus
Bluetongue (BTV) does not affect people or food safety. The virus is transmitted by midge bites and affects cows, goats, sheep and other camelids, such as llamas. The midges are most active between April and November and not all susceptible animals show immediate, or any, signs of contracting the virus. The impacts on susceptible animals can vary greatly – some show no symptoms or effects at all, others can have productivity issues, such as reduced milk yield, and in the most severe cases, it can be fatal for infected animals.
Unfortunately, there are no authorised vaccines for BTV-3 in the UK or EU. Therefore, vaccination against BTV-3 is not possible.
The last outbreak of BTV in GB occurred in the South of England in 2007.
Trade
Strict rules on the movement of livestock from regions affected by bluetongue are already in place, and farmers are reminded that animals imported from these regions must be accompanied by the relevant paperwork to clearly show they meet certain conditions designed to reduce disease risk, such as correct vaccination.
Following confirmation of BTV in a non-imported animal in England, some trading partners may restrict exports of bluetongue susceptible animals or their products. The latest information on availability of individual export health certificates can be found on gov.uk.
Public Health
Bluetongue does not affect human health or food safety.
Bluetongue is a notifiable animal disease. Vigilance by livestock keepers is important. If you suspect any type of notifiable disease in livestock or other captive animals you must report it immediately by contacting your local Animal and Plant Health Agency (APHA) Field Services Office. Failure to do so is an offence.